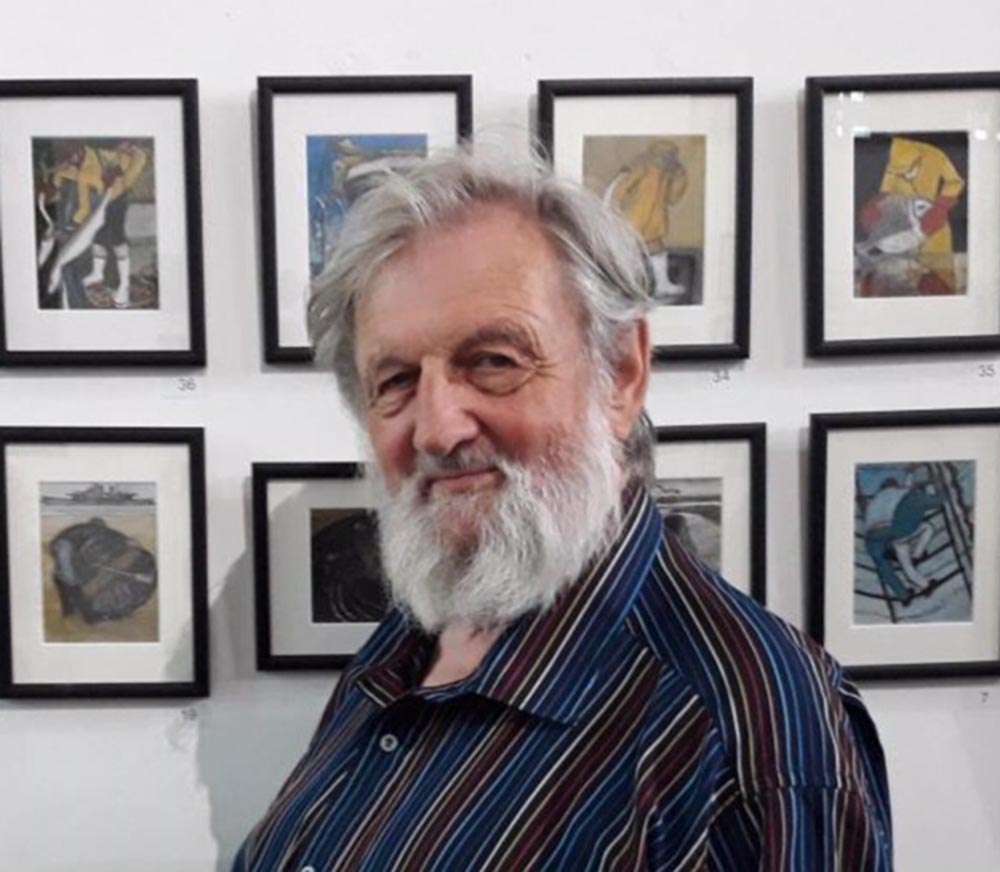 Philip Muirden (1932 – 2023)
Philip Muirden has always avoided the production of works with a unified, pre-conceived, brand image. His output contains celebrations of retinal images e.g. fishing boats of Milford Haven, intellectually inspired work, reflections on the human condition are frequently presented.
Another section utilises ideas and outpouring of the surrealistic storehouse we all possess.
Education
Haverfordwest Grammar School
Cardiff College of Art, National Diploma of Design
Cardiff University, ATD
Royal Academy, David Murray – Studentship
Appointments
Head of Art & Craft, Warrenfield Comprehensive, Slough. 1962-65
Lecturer Mansfield Collage of Art (1965-72)
Senior Lecturer, Newport College of Art (1972-91)
Visiting Tutor, Newcastle University (1995)
Visiting Tutor, University of Wales Caerleon (1998-99)
Exhibitions
Britain in Watercolours
Royal Academy Summer Exhibitions (1979 to 1983)
Royal Watercolour Society (1990/91/95, 2003)
Royal Society of British Arts (1990)
Sunday Times Watercolourist of the year (1990/91/95/2000)
Hunting Group Finalist (1991/94) New English Art Club (1994)
Discerning Eye (1999)
Welsh Arts of the Year – Cardiff (2003 and 2007)
Collections
Newport Museum (3)
Mold Council (4)
Welsh Arts Council (2)
Contemporary Arts Society for Wales (2)
South Glamorgan Council
Stothard and Pitt (2)
Bangor Normal Collage
Milford Haven Harbour Board
One Man Shows
Llaternam Grange
Newport Museum- Artist of the Month (1987)
Newport Museum- Jazz Notes (1990)
St David's Hall Cardiff
Dockside Gallery Milford Haven (1994)
GPF Gallery Newport (1997 and 2004)
St Andrew's Gallery Cardiff (2005)
Waterfront Gallery Milford Haven (2006)
Queens Gallery Narberth
Barnabas Arts House Newport Gwent (2012 & 2016)
Publications
Poems 1974 Arts Council – 2 Illustrations
Pembrokeshire – Look on Land and Sea (2005)
Art News and Review-Critical Articles
Who's Who in Art – Bibliographic Entry (2000)
Artists in Britain since 1945 – Bibliographic Entry
Pembrokeshire Life (2006)
Country Living (2006)
Mapping The Welsh Group – Dictionary
Artist In Wales Council
Broadcasts
Radio Wales (1993/94)
National Television-Swap Shop
BBC Wales Student Activities (3)
HTV – River Patrol-Artists of River Usk (2000)
Agent: Janet Martin, Barnabas Arts House, Newport.
Website: www.philipmuirdengallery.co.uk