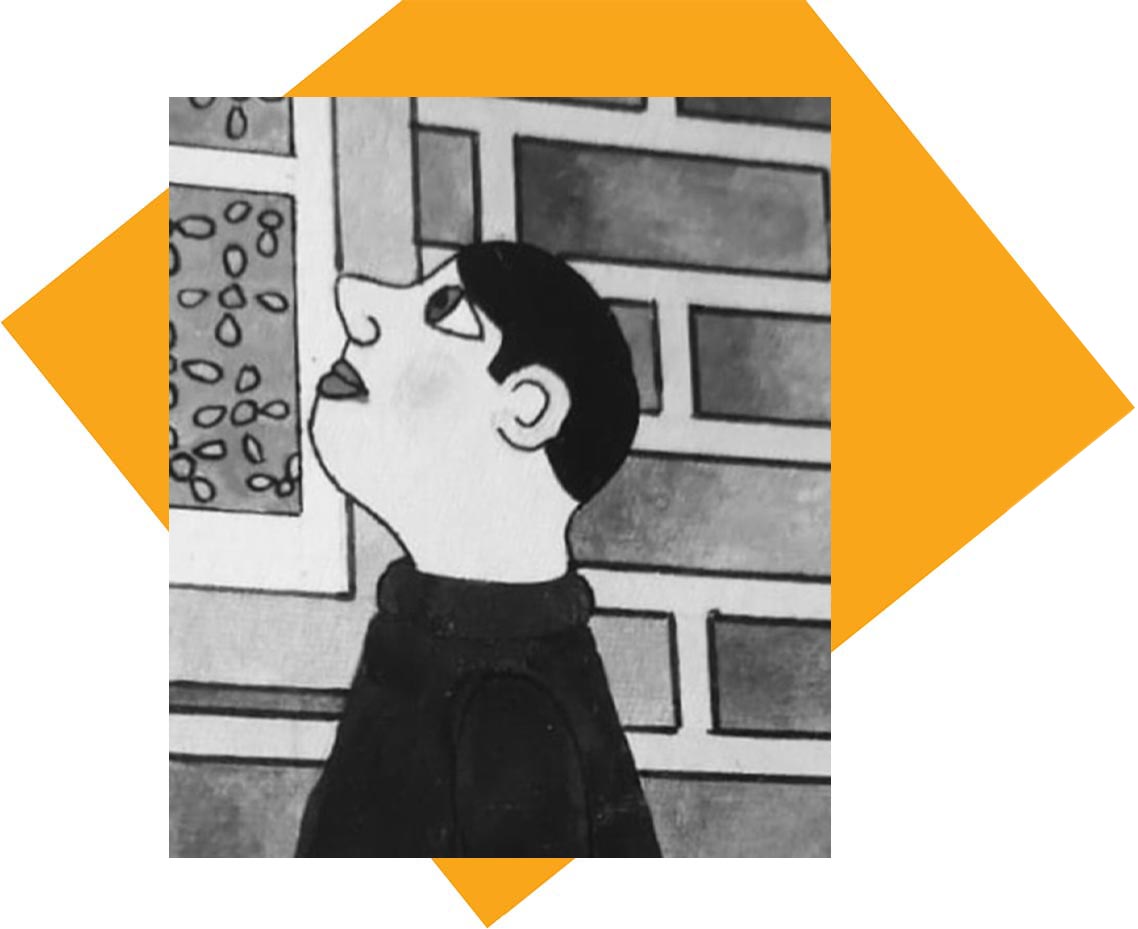 Richard Frame
My arts education began in the foundation department of Cardiff Art College in 1970, from where I begrudgingly moved to Newport in 1971. My third choice. I'd wanted to move away from Wales and go to a seaside college. But as it turned out, it was the best place I could have gone to.  I'm still here, a thoroughly converted Newportonian.
I had no idea what I'd wanted to do when I finished college, teaching didn't come into it. I was interested in performing arts.  For two years I'd put on a panto and I was doing voluntary work in a local special needs school, based around drama. In my last year I left college for a couple of weeks and took up with Circus Hoffman travelling around the South of England. Returning to Newport I got involved in a film with fellow student Cathy Cooper which was produced by ex-Newport students, Steve Stevenson and Maggie Brooks both studying at the National Film School. I even got involved in a college band of sorts.
After leaving college I helped set up a children's theatre company and for two years travelled around Britain visiting primary schools. This led to working with adolescents in the local psychiatric hospital and eventually psychiatric nurse training.
I'd always been interested in the work of Gilbert and George, Richard Long, performance art, circuses and festivals and began to get involved in community arts, helping run children's adventure playgrounds, Pill Carnival, the Baneswell Festival.
In 1983 I was employed to set up and run a new homeless organisation in Newport, in a building next door to TJ's night club. I had already known Johnny Sicolo from my student days and we became reacquainted.
I was always aware of the benefits of 'art therapy' and sessions were regularly held in the hostel. Art played an important role in all our buildings, everyone who used or lived in them ,would help design and make everything, from huge wall mosaics to the plaques to mark the unveiling of a building.
In 1990 we opened the first purpose built arts centre for homeless people, providing a whole range of arts based activities, including a catering group, a recording studio and a 'Theatre Of The Oppressed'. A forum which allowed sensitive topics to be explored. Two albums were produced, featuring the work of the students, and a further album was recorded by a professional using homeless musicians to accompany him. Eric Clapton even donated a number of his songs to be used by the musicians for fund raising endeavours.
Since retiring I became involved in the campaign to stop the closure of Newport Museum and Art Gallery which was successful. I had kept in touch with one of my tutors, John Selway and he persuaded me to become secretary of the 56 Group (Cymru) which I did for many years, organising a number of exhibitions for them.
With two friends I have been running a not for profit publishing company. In 2017 we published a book by the Caerleon writer, Arthur Machen 'The Great God Pan' which John illustrated. Around the same time our friend Jon Gower wrote a biography of John entitled 'Vigilant Imagination'. We jointly published this with the HM'm Foundation, sadly John died just before they were released. Our next work was with 56 Group member Pete Williams who illustrated our new edition of another Machen work which was launched in June 2019 at the Barnabas Arts Centre in Newport.