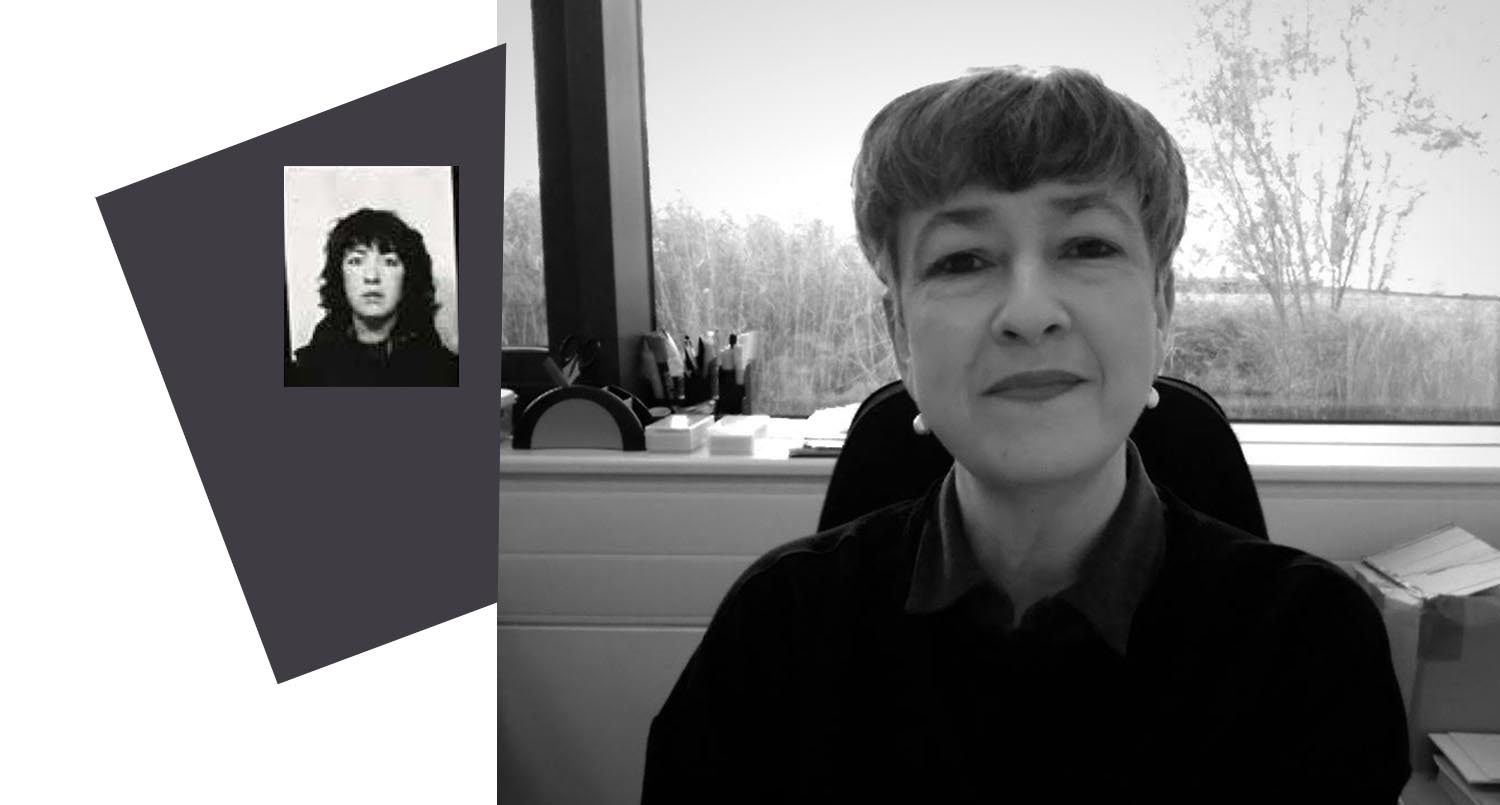 Jane Stanton-Wilson
After completing her Art Foundation at Derby, Jane Stanton attended Newport College of Art with a keen interest in drawing, illustration and printmaking. Her biggest influences were Tom Hughes, Terry Ilott and Gillian Clarke, along with Newport itself and its dockland. She graduated from the Graphic Design course with a first-class honours degree and went on to study Illustration for three years at the Royal College of Art in London, where she was taught by Sir Quentin Blake, Dan Fern, Sheila Robinson, Peter Brookes and Lynda Kitson. Whilst at the College she won the Folio Society Book Illustration Competition, the Brian Robb Travel Scholarship to Venice and was awarded a residency at the Cité Internationale des Arts in Paris, graduating in 1983.
After leaving the RCA, she practised as an artist and visual reporter undertaking residencies at The Royal Naval Dockyard, Chatham, The British Rail Locomotive Works Swindon and appointed by the Imperial War Museum Artistic Records Committee to record the last days of the Women's Royal Army Corps. She took part in the exhibition; "Documenting Modern London" and won the Gordon Fraser Award for Reportage at the Museum of London.
She spent several years in the Terry Lawless boxing gym in the East End of London culminating in an exhibition at the Morley Gallery, London, followed by commissions at Derbyshire County Cricket Club.
Jane has work in the public collections of The Imperial War Museum London, The Museum of London, The National Maritime Museum, The Towner Art Gallery Eastbourne and the South East Arts Association Gillingham. She has been the subject of two retrospective exhibitions, at Derby Museum and Art Gallery and at Derby University with "The Creative Use of Actuality" a solo exhibition of reportage work.
Alongside this, she practised as a freelance Illustrator for Penguin Books, David Chipperfield Architectural Associates, Pandora Books, The Illustrated London News, London City Ballet, Welsh Channel Four, Stephenson Harwood Solicitors London, Mitchell Beazley, Bloomsbury Books, Gibson Hamilton Partnership Loughborough, Ambit and the London Magazine.
Whilst in London she lectured part time at Chelsea School of Art and Brighton Polytechnic before taking up appointments first at Middlesex and then Liverpool Polytechnics. In 1992 she re-located from London with her family to teach Graphic Design at the University of Derby, establishing an Illustration BA and then Masters provision in Visual Communication.
In 2009, she was promoted to Head of Design and is now Course Director for the School of Arts at Derby. She plays a key role in trans-national art and design education at the University as Project Manager with Vakalo College of Art and Design in Athens, die Spengergasse, Vienna and at various locations across China.
Jane has published two books on drawing and her research interests are around the role of drawing and visual research in the design process along with social documentary and reportage for which she is working on a project about the City of Derby. She is a peer reviewer and written several leading articles for the Association of Illustrators journal "VaroomLab". Recently she contributed a paper to a symposium about the Derby surrealist painter; "Marion Adnams; A Singular Woman" with Derby Museum and Art Gallery. She works as a consultant and external examiner at many institutions which have included; University of the Arts London, Arts University Bournemouth, Central Saint Martins London, Duncan of Jordanstone College of Art, University of Wales, Coventry University, Brighton University, Hereford College of Art, Loughborough University, Southampton Solent, Norwich School of Art, University of Gloucestershire and Anglia Ruskin University.