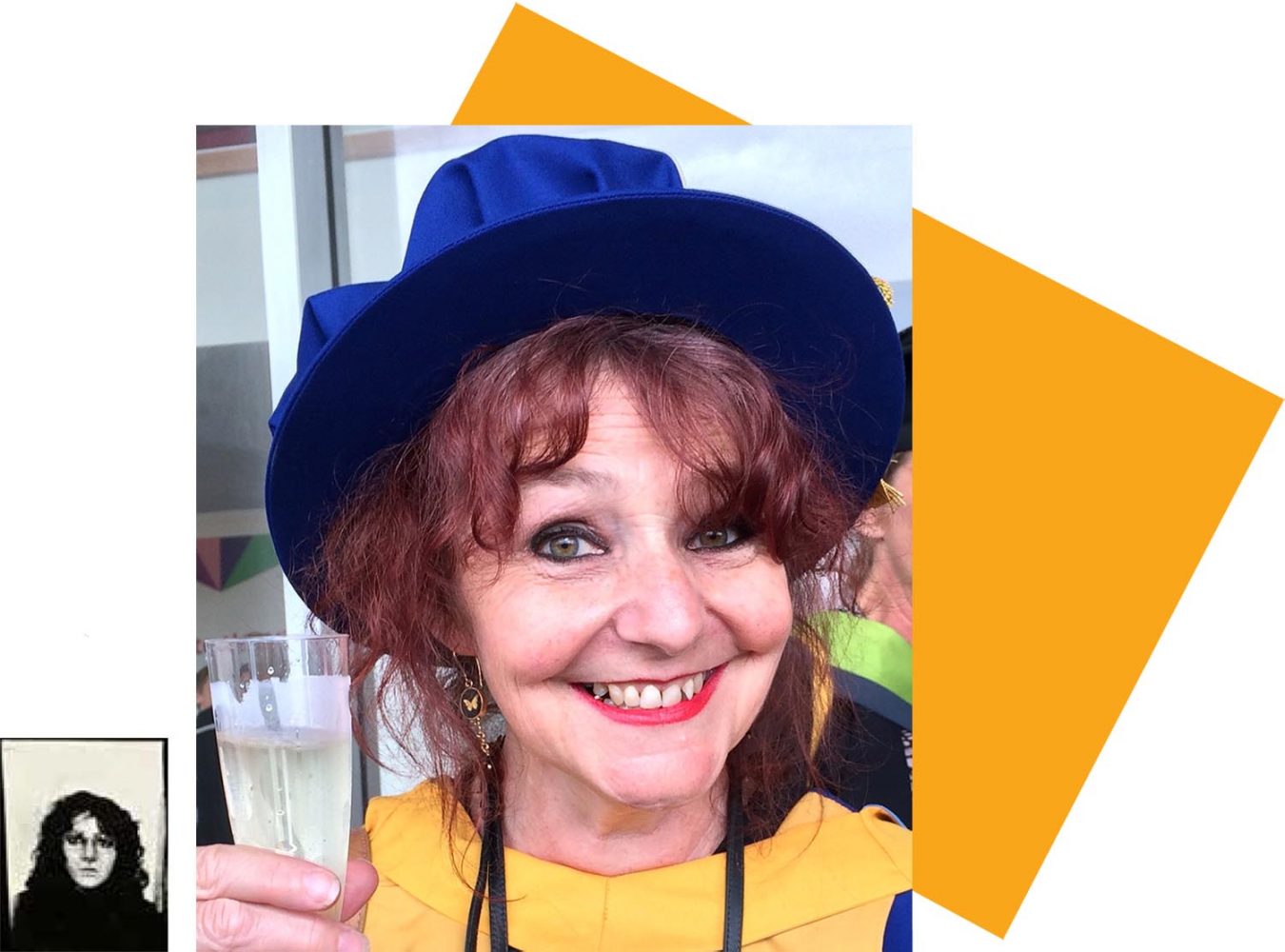 Dr Gillian Wilson (née Harris)
I begin by listing my career roles, and landmarks to provide context to my summary of the impact of my Art education on my life, as this is what we are celebrating and reflecting upon. First and foremost, I met George at Newport and he has been my partner ever since. On leaving Newport, we moved to Kent, a convenient place to be close to our respective families.
1980:  One week as a signwriter for the Council: Two years as a local newspaper artist.
1982-2003:  When our son Alex was born in 1982, we set up a business under the Enterprise Allowance Scheme, government initiative enabling unemployed people to enter self-employment. George and I ran our business offering graphic design and photography: we worked together on some projects and also had a separate client base.
Our practice spanned the transition from analogue to digital working and we adapted accordingly. Ultimately this led to losing work, as more agencies could accommodate their own in-house design facilities. On the plus side, as a designer conversant with industry standard programmes, I managed to secure work in sessional teaching at the Kent Institute of Art and Design – now University for the Creative Arts (UCA). Our daughter Kate was born in 1991.
1998-2018:  During this period in education I worked as a Lecturer/Senior Lecturer alongside various fractional roles supporting the widening participation agenda in outreach with HEFCE and Aimhigher. I also studied for a Masters (1999-2001) then Doctorate (2009-2012) in education to support my teaching. Research question: Is academic writing an appropriate complement to Art and Design practice?
2007-2009:  I undertook consultancy work as Lead Trainer Creative & Media Diploma with Specialist Schools and Academies; Functional Skills Trainer with Learning and Skills Network and an author for Pearson Education.
2007-2013:  Access & Outreach Co-ordinator (0.6fte). In this role I established a community arts centre in Herne Bay offering studio spaces for emerging artists, two gallery spaces, meeting rooms and workshop spaces. This quickly became an independently run local facility and is flourishing. I remained as a Director and Chair until 2018.
2015-2018:  Unit leader for Research on UCA MA in Creative Arts Education
2018:  I left UCA to pursue my own practice and had my first solo exhibition in July 2019 in the galleries I established.
2019:  Joined The Margate School (TMS) 'an independent liberal art school for the 21st Century'. Teaching a unit called 'Memoire' which is students' research and reflective journal on an MA in Fine Art (Art, Society, Nature). The qualification is accredited by L'École Supérieure d'Art et Design Le Havre-Rouen (ESADHaR).
As the first person in my family to have a degree – even in Art! – I had opportunities that I could not have envisaged as the very average academic achiever I was as a school leaver: my mum thought I would do well to be a secretary. I have since seen hundreds of young people like me, not held in high regard at school with quite low expectations go on to run successful businesses or achieve acclaim in their field. Art education changes lives.
For me, as a working mother, a career in art gave me the freedom and flexibility to continue to work and still meet my kids from school and be around if they were ill. And to spend most of my days with George, even when there was sometimes only a couple of hours between going to bed and the school run. I never woke up dreading work, which is something very precious. I've never been at the top end of my discipline, but I've really enjoyed my working life.
Now politically, at a time when creative pursuits are undervalued and undermined in mainstream education, we need to shout very loudly about what we individually have gained from this, and our contributions to society and the economy through our work.
The newly independent liberal art school I have recently joined as a tutor seeks to recreate the model of the art school we knew and loved, rejecting the imposition of standardisation, regulation and testing which characterises our current education system