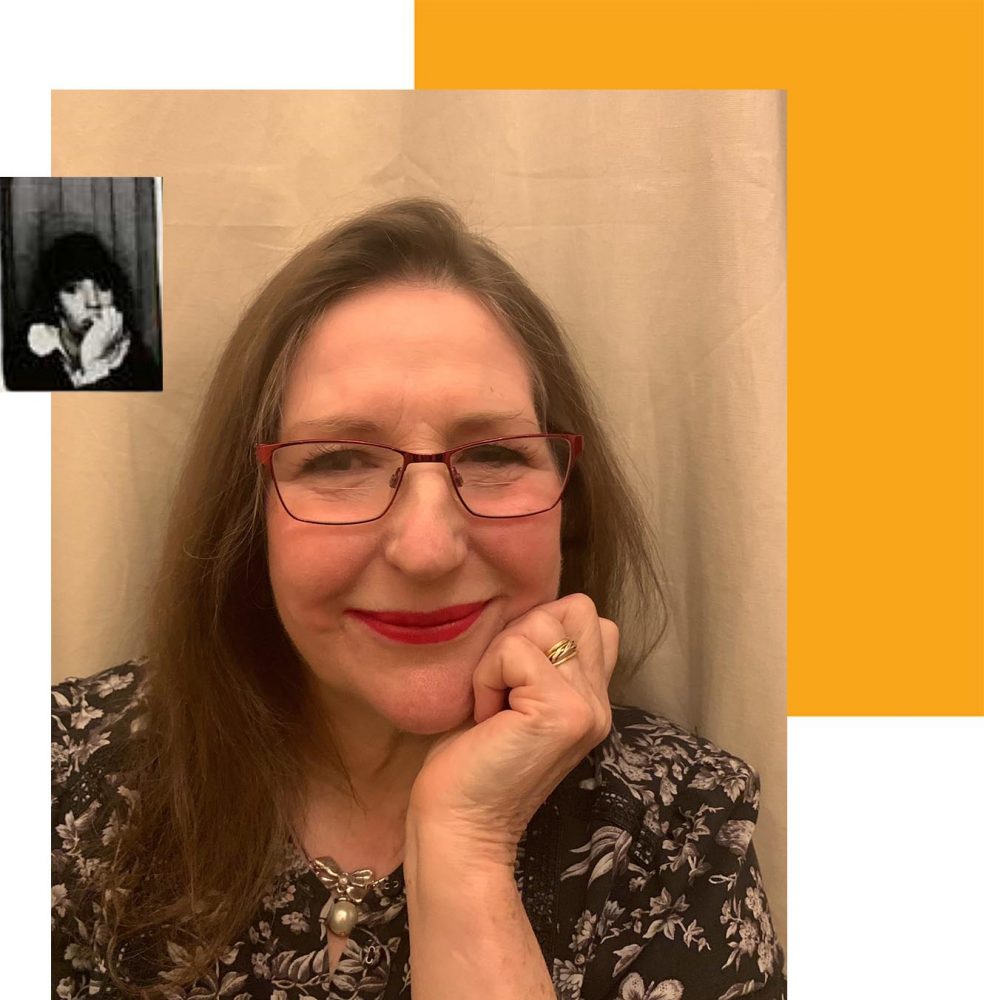 Angela Crowcroft
Angela Crowcroft (neé Evans) was born in Jersey in the Channel Islands of Welsh parents, attending Jersey College for Girls where the love of Art was fostered by Pat Miller (who had trained at the Slade under EH Gombrich among others).  She was an inspiration to me, saw something in me and suggested I should be going to Art College.  I did a Foundation Course at Swansea College of Art in 1976-1977 and took a BA Hons Graphic Design (Illustration) 1st class at Newport College of Art between 1977 and 1979.
I was lucky to find myself in a college with characterful tutors like Tom Hughes who shared their interest in developing and valuing skills of drawing and printmaking and had connections with well-known artists in Wales and beyond. He shared Mervyn Peake's marvellous booklet, The Craft of the Lead Pencil (1946), with us, gave us sets of paints and led many discussions about Art. I was drawn to the Victorian building, with its copper verdigris dome, its busy interior like a hive, honeycombed with rooms off central stairwells lined with white and green tiles, and delicious Chelsea buns in the canteen.  It was the Punk era, with people experimenting with weird clothes and singing in bands, with visits from ex art students like Ian Dury. The following year I did a PGCE in Art at Sussex University, Brighton, as I planned to be an illustrator and thought that it would be useful to support myself initially by teaching. It was a busy year with writing essays and teaching practice.
Towards the end of the course Pat Miller contacted me to say there was an unexpected vacancy in the Art department at my old school and suggested I apply, so in 1980 I was back at JCG teaching Art to girls aged 11 – 18, with my former teacher as my colleague until she retired.  Early on I discovered the job of teaching was fascinating and was happy to pursue it as my career; during four decades (and counting) I have tried many different ways to help students learn to look, to appreciate the work that goes into Art and to develop their skills. I have always done practical demonstrations, now called modelling, and have enjoyed getting to know the students and trying to build their confidence.  Many of my students have gone on to Art College and have had successful careers in the Arts. I have found that I am always learning and being inspired by my students; I have never looked for promotion as this would have kept me out of the classroom.  Of course, things have changed over the years, with more and more pressures to deal with in school, but changing technology and the internet now allows me to show my students art from any era at a touch of a button.
Outside school I have done commissions for posters for plays and contributed to group exhibitions.  For several years I have designed and help construct a 35-foot float which takes part in Jersey's annual Battle of Flowers parade. 
I have taken part in several exhibitions by local art teachers down the years, and look forward to the chance of developing my own work in the future.