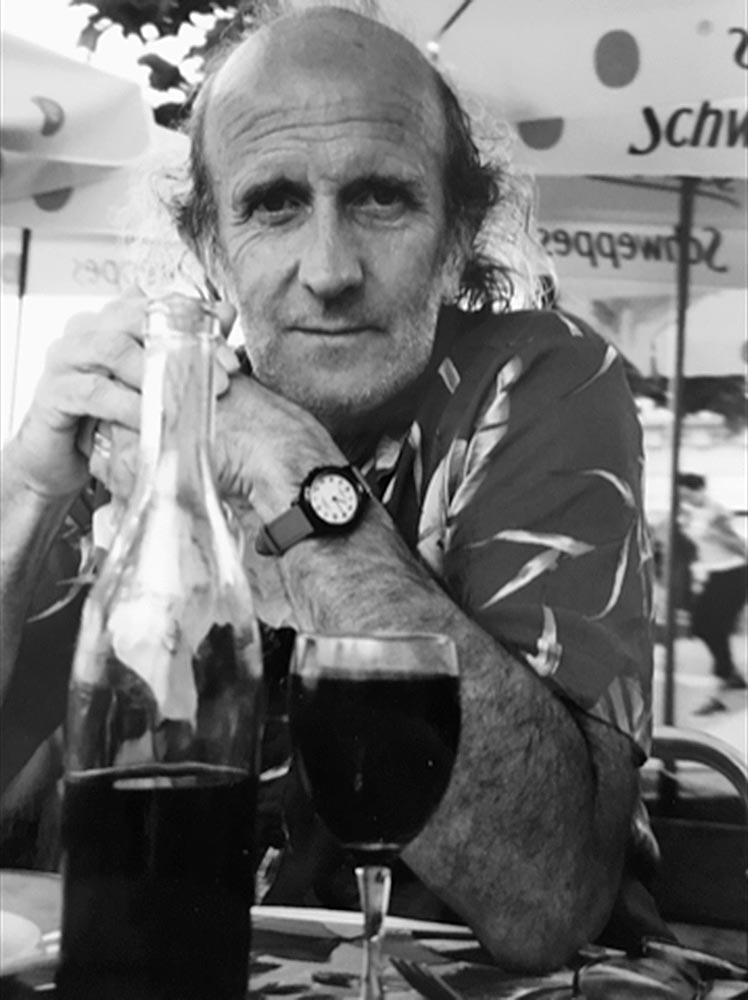 Terry Ilott (1945 – 2019)
I was born in 1945 and was educated at schools in Gloucester. Between 1963 and 1967 I was a student at Gloucestershire College of Art, Cheltenham, at first on the Pre-Diploma (Foundation) course and then on the Diploma course in the Department of Fine Art (Painting). Between 1967 and 1970 I studied at the Royal College of Art on a Post-graduate M.A. course, also in the Department of Fine Art (Painting).
The 1960's, since much maligned by critics, was genuinely an incredible period of cultural creativity, optimism and excitement. To be a student in a British Art School at this time was, for me – and for many others – a liberating and life-changing experience for which I count myself extremely lucky. After leaving the R.C.A. I married and, after some part-time teaching, found a full-time post at Newport College of Art in the Department of Graphic Design, which was broad-minded enough to deliberately appoint a Fine artist. I enjoyed working with Graphic Design and Illustration students, who were always less pretentious and frequently more creative and talented than their Fine Art contemporaries!
Whilst teaching, I always continued with my own work and, although very conscientious and idealistic in wanting to make the Art School experience as positive for my students as it had been for me, I always thought of myself primarily as an artist and justified my position as Lecturer by thinking that I was doing less harm than someone else might do in my place!
I always had – and still have – a rather ambivalent attitude towards the art market and to showing and selling my work. Much of my commercial or critical success can be traced back to the fact that Lynn Chadwick, the well-known sculptor, who lived locally, bought my entire Diploma exhibition in 1967 and the work (at least the last time I looked!) was still on the walls of his magnificent house, now lived in by his son, Daniel. As a result of this, my work was seen and represented for a time, by Marlborough Fine Art, who were also agents for Lynn himself. During and after my time at the R.C.A., Lynn and his wife, Eva, were very supportive and occasionally continued to buy my work. It was on a visit to show some of my pictures that I met Mike Oldfield who also bought some pieces and later commissioned me to design the cover for 'Crises'.
When it comes to my work, my inspiration and themes have, since student days, been quite consistent. One of my favourite quotations is from Albert Einstein who said that "The most beautiful experience we can have is the mysterious. It is the fundamental emotion that stands at the cradle of true art and true science". This sense of mystery, together with the more elusive quality of poetry, is nearly always present in the work I most admire, such as the paintings of Samuel Palmer, Vermeer and Caspar David Friedrich, the songs of Bob Dylan and the films of Powell and Pressburger and Stanley Kubrick. This sense of mystery is also connected to the idea of 'the sublime' as understood by the Romantic artists (painters, writers and composers) who were inspired by a kind of wonder and awe in the face of Nature.
If my paintings are gloomy (which some may say they are!) it is because I take a rather jaundiced, pessimistic view of the human race and its abilities and short-comings. When people talk of saving the planet, what they often really mean is saving the human race. In fact, I think the world would be a much more beautiful place without us and would soon recover if we were to disappear overnight. Despite all this, I'm not really such a total pessimist and, even in my darkest pictures, there is usually a glimmer of hope. The other thing to say about my pictures is that I don't do many of them – six in a year would be a lot. I suppose I take the view that the world is already too full of visual pollution and I'd rather not add to it unless I have a good reason to.
Work in public and private collections, including:
Lynn Chadwick
Andrew Lloyd Webber
Mike Oldfield
Hogarth Gallery, Australia
Victor Pasmore
HM Gallery, Brussels
Boymans Museum, Rotterdam