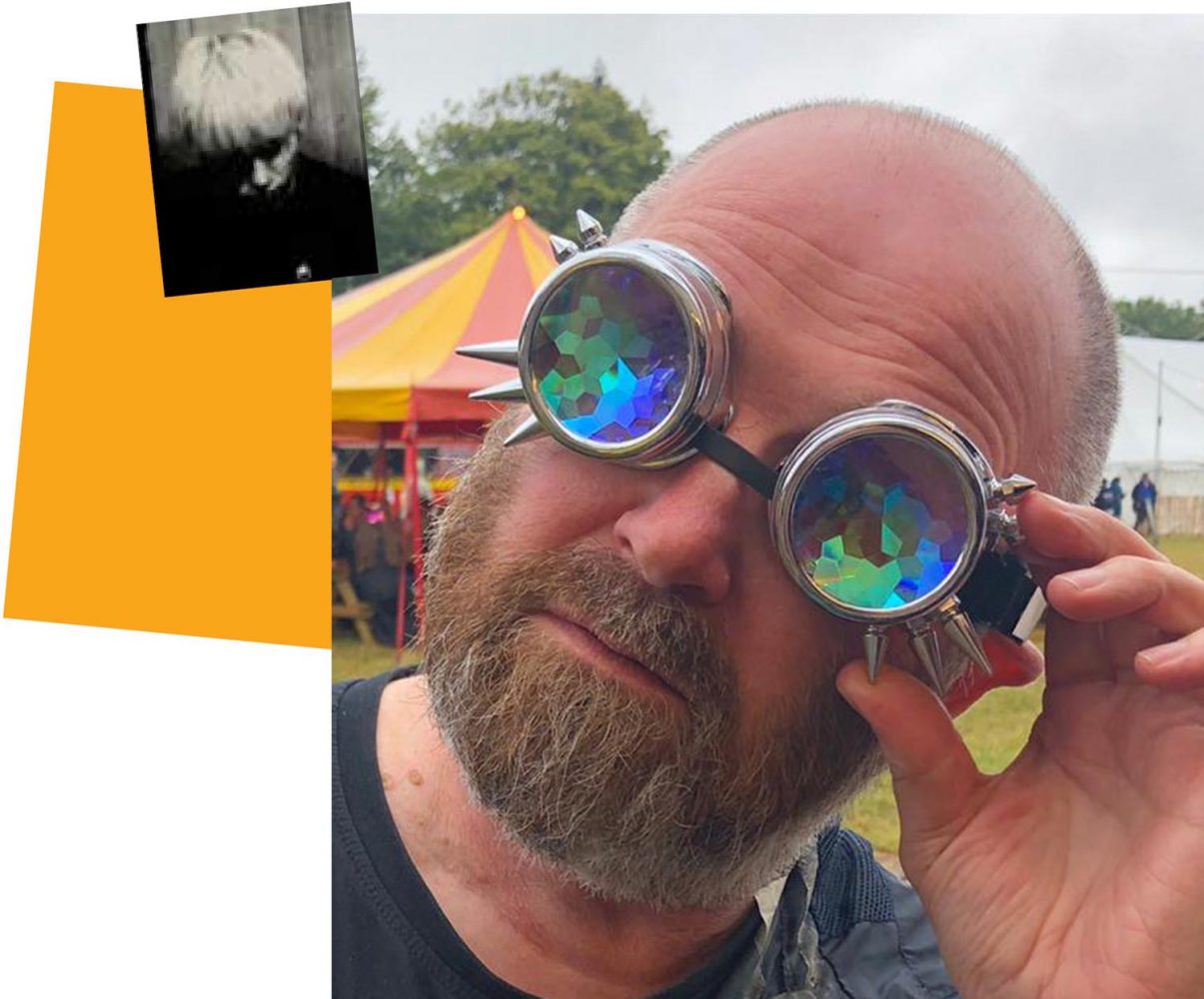 Simon Barber
1977 – 1980: BA Graphic Design, Newport College of Art, Gwent, South Wales
My three years at Newport were life-changing. The Publicity Design course taught me all the design and typography rules that you need to understand before you can start breaking them, something I didn't realise at the time. But it was the music culture happening outside the college walls that really excited me. I blew my second year's grant on a drum kit and played for college band The Wait and Pontypridd band Blaue Reiter, fronted by fellow students and Constance Street housemates Claire Sinnott and Bari Goddard.
1980 – 1985: Nursing Assistant, Coldharbour Hospital, Sherborne, Dorset
Full-time employment arrived as a summer job and lasted five years. Still obsessed with music I was playing in several bands (The Act, Scarlet Downs and The Chesterfields), organising gigs, and putting a fanzine 'Feeding The Fish' together with my friend Alan Flint.
1984 – 1990: Songwriter and Musician, The Chesterfields
1985 – 1986: Graphic Designer, Photobanc Limited
1985 – 1990: Graphic Designer, The Terrible Hildas
1987 – 1992: Music Promoter, The Electric Broom Cupboard, Sherborne and Yeovil
The Chesterfields signed to Bristol's Subway Organisation label in 1986 and, following the release of our 'A Guitar in Your Bath' EP, were quickly embraced by Radio 1's Janice Long and John Peel, resulting in a thoroughly enjoyable four years of recordings and gigs throughout the UK and Europe, with our album 'Kettle' reaching No.2 in the UK Indie Chart. Alongside this my partner Amanda Wallwork and I became 'The Terrible Hildas', producing artwork for record sleeves, posters and merchandise for the independent music industry. I also ran a fortnightly music club called the Electric Broom Cupboard, bringing bands from all over the country to Sherborne and Yeovil.
1990 – 1998: Freelance Graphic Designer, Foothold Design
1998 – 2000: Graphic Designer, Ragged Bears Publishing, Milborne Wick, Somerset
Following the demise of The Chesterfields, Amanda and I set up Foothold to produce graphic design for creative businesses and individuals, including the Craft Galleries Guide, Vinyl Japan Records, Somerset Arts Week, Dorset Arts Week, Glastonbury Dance Festival, and PJ Harvey. Regular work for Ragged Bears Publishing brought the offer of full-time employment and the opportunity to see if that might suit me. It didn't.
2000 to present day: Editor and Designer, Evolver magazine
2000 to present day: Freelance Graphic Designer
2007 – 2008: Marketing Officer, Dorchester Arts Centre, Dorchester, Dorset
2008: Marketing Officer, Dorchester Festival
Now approaching its 20th year, Evolver is the Wessex region's free arts and culture guide.
Published bi-monthly, it features listings and features promoting visual arts and performance events in Somerset, Dorset, Devon, Wiltshire, Bristol and Bath. It brings together all the things I love – graphic design, art and music. I continue to take on other design and marketing projects, and design brochures for the region's two major arts events, Dorset Art Weeks and Somerset Art Weeks.